GA-X58A-UD3R (rev. 2.0)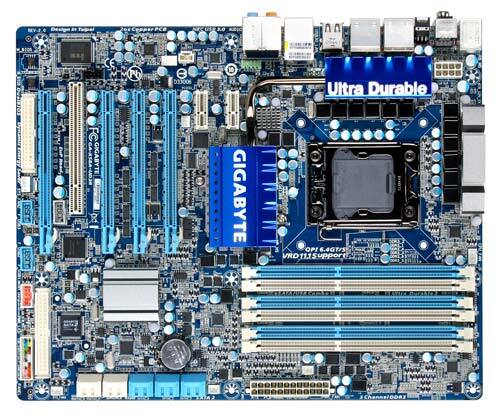 The GA-X58A-UD3R was designed specifically to take advantage of the raw power of the next generation Intel ® Core™ i7 processors and the Intel ® X58 Express chipset, whose new evolution in computing architecture is able to deliver an amazing performance break through from past processor generations. Replacing the Front Side Bus is the new Quick Path Interconnect, or QPI, whose 25.6 GB/sec transfer rates (double the bandwidth of the 1600MHz FSB) eliminates the communication bottleneck between the processor and chipset.
GIGABYTE On/Off Charge technology allows you to charge your iPhone, iPad and iPod Touch regardless of whether your PC is on, in standby mode or even off. A derivative of GIGABYTE's highly acclaimed 3x USB Power feature, On/Off Charge enables devices to draw more current from GIGABYTE motherboard USB ports than standard USB ports allow, so that charging from your PC can be as fast as with a charger. more
*Due to certain mobile phone limitations, users may need to connect the mobile phone to their PC before the PC enters S4/S5 mode to enable a quick charge from non On/Off Charge USB ports. Charging results may vary by model.
*Whether to support 3X USB power design, it may vary by models.

The GIGABYTE P55A-series motherboards support the latest generation SuperSpeed USB 3.0 technology made possible through an onboard NEC uPD720200 host controller. With superfast transfer rates of up to 5 Gbps, users are able to experience an almost a 10x improvement over USB 2.0. Additionally, backwards compatibility with USB 2.0 assures users of long term use of their legacy USB 2.0 devices. The onboard NEC SuperSpeed USB 3.0 technology also provides new power management features that include increased maximum bus power and device current draw to better accommodate power-hungry devices.
Yet another onboard feature of GIGABYTE motherboards are Marvell's SE9128 chips for high-speed SATA Revision 3.0 compatibility, delivering superfast 6Gbps link speeds for twice the data transfer rates of SATA Revision 2.0 (3 Gbps). When used in RAID 0 (Stripe) mode, GIGABYTE motherboards offer even faster data transfer rates of up to 4x the speed of current SATA interfaces.
* SATA3 RAID 0 4x and SATA3 2x performance are maximum theoretical values. Actual performance may vary by system configuration.
* SATA3 SSDs are not recommended for use in RAID 0 mode on Marvell SE9128 ports.
GIGABYTE motherboards feature a 3x USB power boost, delivering greater compatibility and extra power for USB devices. GIGABYTE's unique USB power design is also able to efficiently regulate output over the full voltage range, which greatly enhances USB device compatibility. In addition, dedicated lower resistance fuses ensure lower voltage drops, and provide more stable and plentiful power delivery.
GIGABYTE Cloud OC is a free overclocking application that facilitates PC overclocking through any web browsing capable device such as a smart phone, iPad, iPhone, Netbooks or notebook PC. Being browser based, it connects via wireless Internet, Bluetooth or through an Ethernet cable, and its many functions are categorized into three tabs: Tuner, System Info and Control. more


GIGABYTE Hotkey OC allows users to create and save various profiles that can be adopted for different benchmarks. Hotkey OC then allows users to jump between these profiles on the fly so that the best profile for each segment within the benchmark can be used to optimize scores and boost overall performance. For example, when running 3DMark 06, the 1st profile might be optimized for graphics, and can be used for the first two graphics tests, then, the next two tests can utilize the 2nd profile which might be optimized for CPU tests, and one could jump back to the 1st profile again for the final two graphics (shader) tests. more

GIGABYTE Smart 6™ is designed with user-friendliness in mind, and offers a combination of 6 innovative software utilities that provide easier and smarter PC system management. Smart 6™ allows you to speed up system performance, reduce boot-up time, manage a secure platform and recover previous system settings easily with a click of the mouse button.
Smart QuickBoot
No more waiting for PC Boot up
Replacing the role of FSB
Intel uses the QPI to connect internal components of Core™ i7 processors , and to connect the CPU itself to the Northbridge and banks of memory.
QPI delivers:
Up to 25.6GB/sec of bandwidth between Core™ i7 processors and the rest of the system,providing exactly double the bandwidth of 1600 Hz FSB
Flexible graphics capabilities — Up to 3 VGA cards are supported for either 3 way CrossFireX™ or 3 way SLI™ action, delivering the ultimate in graphics performance for gaming enthusiasts who demand the highest frame rates without compromising on resolution.
GIGABYTE Ultra Durable 3 design, featuring 2 ounces of copper for both the Power and Ground layers which dramatically lowers system temperature by delivering a more efficient spreading of heat from critical areas of the motherboard such as the CPU power zone throughout the entire PCB. GIGABYTE's Ultra Durable 3 also lowers the PCB impedance by 50%, which helps to reduce electrical waste and further lowers component temperatures. A 2oz Copper layer design also provides improved signal quality and lower EMI (Electromagnetic Interference), providing better system stability and allowing for greater margins for overclocking. more

• Cooler than traditional motherboards
• Enhanced durability
• Improved energy efficiency
• Greater margins for overclocking. more
In addition, doubling the amount of copper lowers the PCB impedance by 50%. Impedance is a measure of how much the circuit impedes the flow of current. The less the flow of current is impeded, the less amount of energy is wasted. For GIGABYTE Ultra Durable 3 motherboards, this means total PCB electrical waste is reduced by 50%, which also means less heat is generated. 2 ounces of copper also provides improved signal quality, providing better system stability and allowing for greater margins for overclocking.
Quick and Effortless Overclocking with One Click
GIGABYTE Quick Boost provides 3 levels of CPU performance enhancement; a simple click on the desired level delivers quick and effortless overclocking for novice and experienced users alike.
DualBIOS™ — Patented Dual Hardware BIOS Protection
Delivers vivid surround sound for music, movies, and games, using two to eight speakers or any set of headphones
Designed to automatically deliver the best possible listening experience
GIGABYTE Ultra Durable motherboards are equipped with solid capacitors developed by leading Japanese manufacturers. With an average lifespan of 50,000 hours, these solid capacitors provide the stability, reliability and longevity essential to meet the power needs of high-end processors and other components running today's most demanding applications and games. more
* 50000 hours of work time is calculated at 85℃ ambient temperature.
Driver Scape
This page contains the list of device drivers for Gigabyte X58A-UD3R. To download the proper driver, first choose your operating system, then find your device name and click the download button.
If you could not find the exact driver for your hardware device or you aren't sure which driver is right one, we have a program that will detect your hardware specifications and identify the correct driver for your needs. Please click here to download.