HUANANZHI X99 F8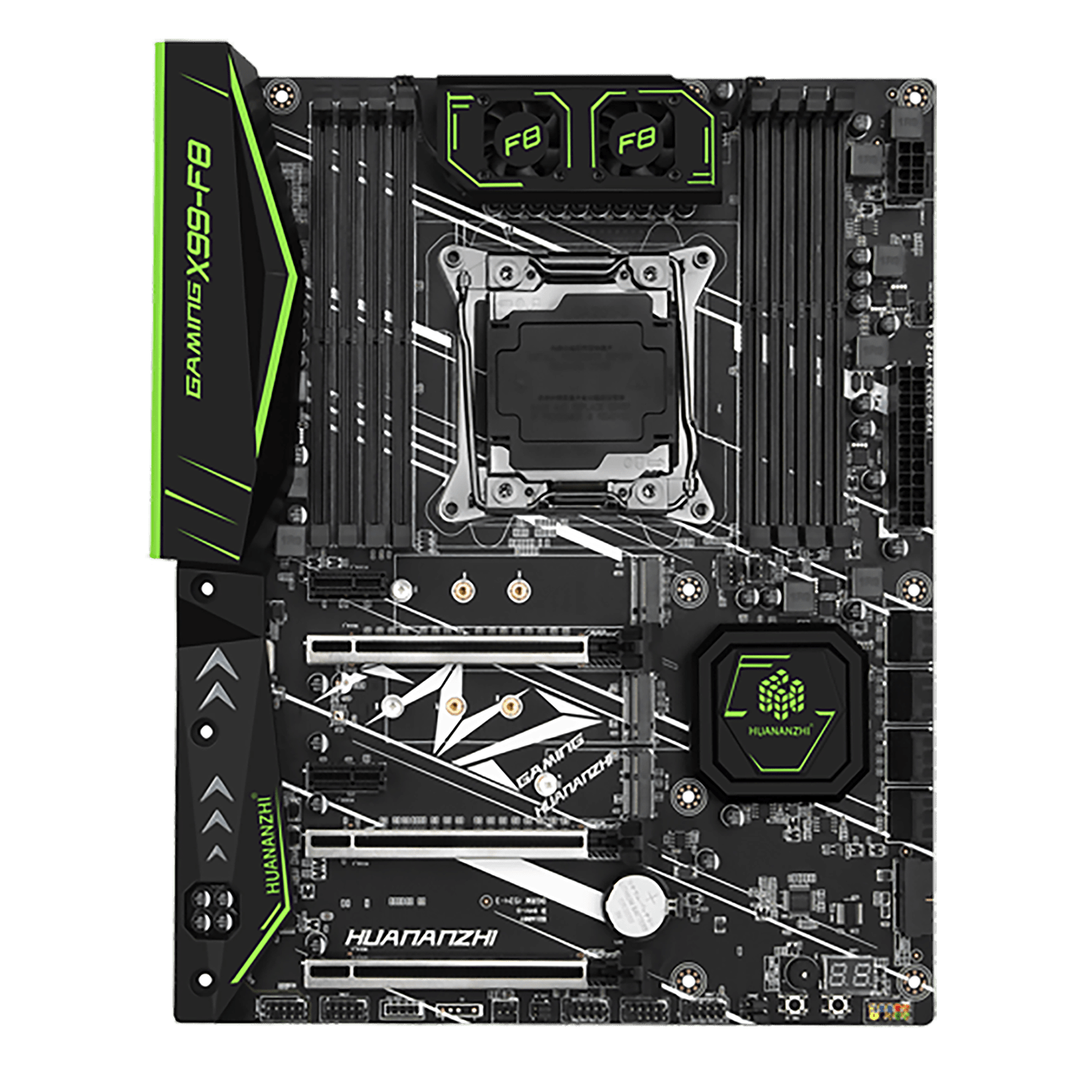 Supports LGA2011-3 series processors
Server-level CPU create extreme reliability, quickly edit images and videos, quickly multitask between programs, and show your creativity.
Support NVIDIA and AMD series graphics cards
Help you increase the speed of execution of various tasks, accelerate your game, help you achieve a professional gaming environment.
Support non-ECC PC and ECC Server memory
Support DDR4 memory, 4 channel up to 8 x 32GB, supports ECC memory modules, with memory error correction.
Ultra-fast PCIe M.2 (NVMe) slot design
HUANANZHI M.2 solution, provide ultra-high storage performance, it can support PCIe or SATA M.2 solid state drives.
Built-in LED debug indicator display (embedded LED POST code display) on the motherboard, a simple code to display the status of the motherboard, allows you to more easily grasp the system status.
Nonotree is your most powerful support, professional warranty inquiry system.
OVERVIEW
TECH SPECS
Driver & Manual
CPU Support
LGA 2011 V3 Motherboard X99 REG ECC SATA 3.0 With M.2 SSD Four channel Memory DDR4 64G 2011 3 Mainboard LGA2011-3 for I7 Xeon E5
Ports: USB 2.0
Ports: USB 3.0
Ports: PCI-E 3.0
Ports: PS2
Ports: Ethernet
Ports: Wifi
Ports: M.2
Ports: SATA
Chipset: Intel X99
Socket Type: LGA 2011-3
Item Condition: New
Memory Type: DDR4
Application: Desktop
Hard Drive Interface: SATA III
Memory channel: Four
CPU Type: Intel
Model Number: X99 Motherboard 2011-V3
Graphics Card Type: Non-Integrated
With CPU: Yes
FSB / HT: 2800Mhz
Chipset Manufacturer: Intel
Form Factor: ATX
Memory Bank: 4 DDR4
CPU Socket: LGA2011 V3
Motherboard size: 220×280 mm
Chipset: Intel X99
Supports frequency: 2133/2400/2800 Mhz
Note Before you buy :
1. Server memory cannot be used with desktop CPUs.
(Eg I7 CPU cannot support server memory)
2. Due to different memory particles. There may be compatibility issues when different brands of memory modules are installed on the motherboard at the same time. It is recommended to use the same brand of memory.
3. Due to different production batches. The appearance may be slightly modified, but it will not affect the performance of the motherboard. If you mind, please do not buy.
1.Supports X99 LGA 2011-3 V3 V4 CPU.
2.DDR4 4 Channels RAM .
3.USB 3.0 and SATA III. High Speed PCI-E M.2 NVME SSD Slot
4. Auto Turbo Boost. Increase CPU frequency. Speed up work and games
Motherboard Type: ATX
CPU Socket: LGA2011 V3
Motherboard size: 220×280 mm
Chipset: intel x99
Memory type: DDR4
Memory channel: four
CPU slot type:LGA2011-V3
CPU type:LGA2011-V3
Memory capacity: 64G
Support for graphics card standards: PCI Express 16X
Number of usb interfaces: 10
Hard disk interface: SATA III
performance. specification. The slots are identical. Color is not the same(will sent the random color).Now the motherboard sent is orange
Notes: Due to different production batches. The appearance may be slightly changed. But performance and parameters will not change. If you mind Please don't buy,thanks for understanding.