HUANANZHI X99 F8D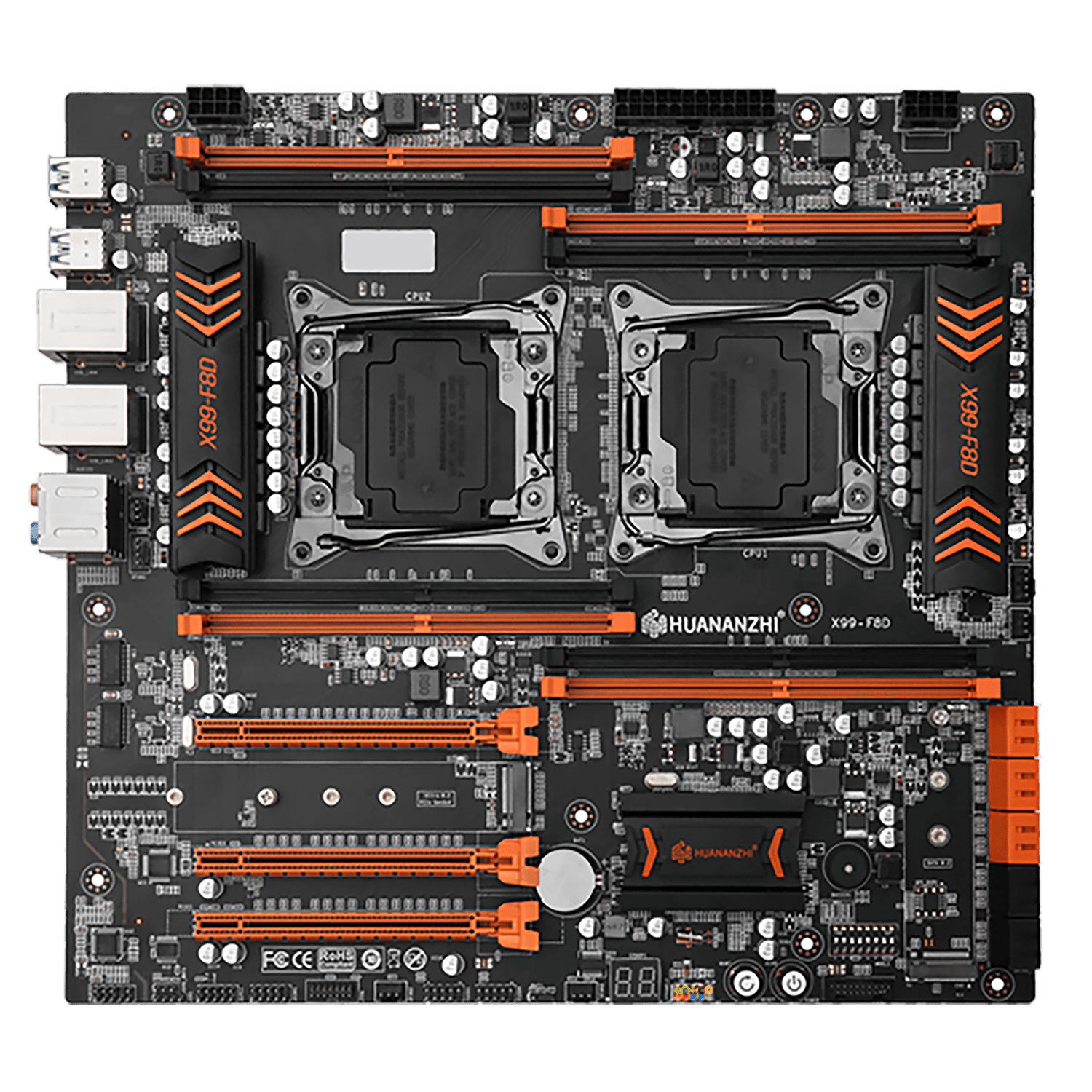 Supports LGA2011-3 series processors
Server-level CPU create extreme reliability, quickly edit images and videos, quickly multitask between programs, and show your creativity.
*Non supports: Core™ Processor and Xeon® E5-16XXv3 series.
Support NVIDIA and AMD series graphics cards
Help you increase the speed of execution of various tasks, accelerate your game, help you achieve a professional gaming environment.
Support non-ECC PC and ECC Server memory
Support DDR4 memory, 4 channel up to 8 x 32GB, supports ECC memory modules, with memory error correction.
Ultra-fast PCIe M.2 (NVMe) slot design
HUANANZHI M.2 solution, provide ultra-high storage performance, it can support PCIe or SATA M.2 solid state drives.
Built-in LED debug indicator display (embedded LED POST code display) on the motherboard, a simple code to display the status of the motherboard, allows you to more easily grasp the system status.
Nonotree is your most powerful support, professional warranty inquiry system.
OVERVIEW
TECH SPECS
Driver & Manual
CPU Support
Материнская плата Huananzhi Gaming X99-TF поддерживает память DDR3 и DDR4
Китайские производители материнских плат всегда отличались любовью к выпуску неординарных продуктов. Например, в ассортименте компании Onda Group имеется плата на бюджетном чипсете Intel H110, официально поддерживающая чипы Coffee Lake-S, а также модель, сочетающая набор логики H310 и слоты под оперативную память DDR3.
Очередным творением китайского «сумрачного гения» является системная плата Huananzhi Gaming X99-TF. Как подсказывает название, она выполнена на чипсете Intel X99 и поддерживает процессоры в конструктиве LGA2011-3. Отличительная черта новинки — наличие разъёмов под оперативную память стандартов DDR3-1866 и DDR4-2400.
К сожалению, память DDR3 будет работать не со всеми процессорами LGA2011-3. Список совместимых CPU ограничен чипами Intel Xeon на архитектуре Haswell, включая Xeon E5-2678 v3, E5-2696 v3, E5-2629 v2, E5-2649 v3, E5-2669 v3, E5-2672 v3 и E5-2673 v3.
В оснащение платы Gaming X99-TF входит 6-фазная система питания процессорного гнезда, оборудованная активным охлаждением, три слота расширения PCI Express 3.0 x16, пара PCI-E 3.0 x1, восемь портов SATA 6 Гбит/с, два разъёма M.2 под твердотельные накопители и один M.2, предназначенный для установки беспроводного модуля.
На территории Поднебесной системная плата Huananzhi Gaming X99-TF доступна по цене около 100 долларов.
HUANANZHI X99-TF ATX Standard Desktop Motherboard LGA 2011-v3 E5 v3 v4 I7 CPU DDR4 DDR 3 RAM Supports E5 2680V3 2506V3 2678 V3 E5 V3 V4 Xeon CPU Dual M.2 PICE NVMe Socket Support DDR3 or DDR4 USB 3.0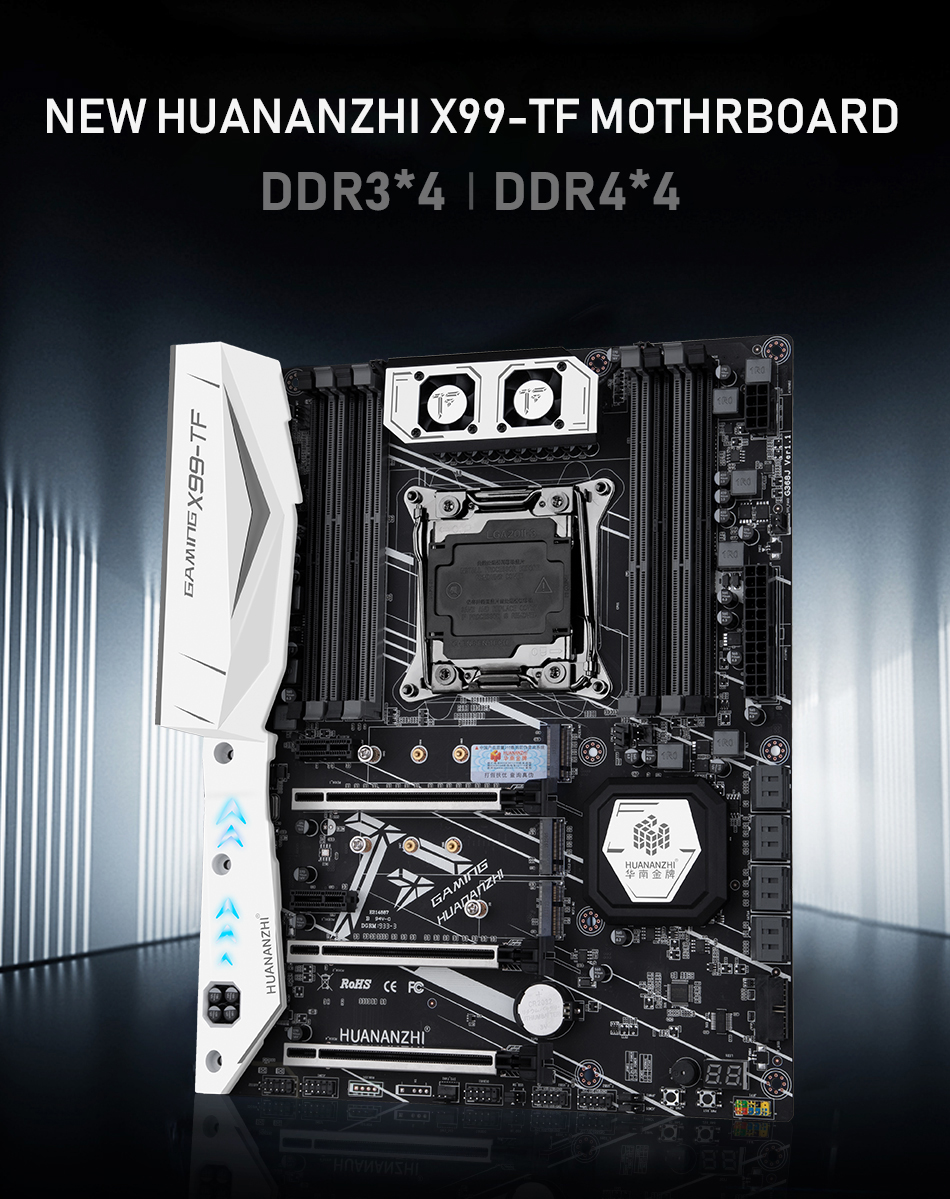 Cons: Bios is old school Dan's on top of k I no could eventually die after years of use Not documentation or manual included.
Overall Review: So overall do your research and understand what you are getting. This mobo did what I needed it to do. I stuck a old xeon cpu, 16gb of ddr4 ram, a gtx 1050ti, and a nvme and it was the perfect starter build for my nephew.
Pros: with 8 sata
Cons: it is mostly in Chinese, had to translate it lol. English Manuel would be nice . Took like 2 months to deliver. lol. worth the wait
Overall Review: Great! let see it how long the motherboard last/breaks now!
Pros: If you are going to build this into a gaming rig, you should be okay. It's actually pretty nice. However.
Cons: I was trying to use this as a makeshift mining rig. The initial gpu that was plugged directly into a 16X PCIe slot worked just fine. However, I could not get the GPU's on riser boards to be detected. neither in Windows 10 nor in Nicehash-OS. (All worked fine in another test rig.) I suspect my problem had something to do with getting the shared PCI lanes properly assigned to each slot in setup. My Xeon E5 2680-v3 had plenty of lanes to spare, so I am fairly certain that I had enough. Anyway, the setup menus were extremely confusing to me due to their labeling and help descriptions not being user friendly. (FYI, I had built several machines over the years and I am no stranger to working with typical BIOS settings.) I couldn't find a phone number for tech support, the user manual was no help, and I finally gave up after several days of stabbing in the dark with no success. Oh, one more thing. The USB 3 drivers that came with the motherboard would not load up in Windows 10. It told me that the motherboard was not compatible. Go figure. Chipset, network, and audio drivers all loaded ok.
Overall Review: I won't be buying Huananzhi again, but maybe you will have better luck.
Pros: 2 M.2, one can be SATA, both NVME, M.2 for wifi card. 8 SATA Fast Shipping from NewEgg Fast RMA
Cons: Mostly Chinese documents Can't find detailed trouble shooting info Mine would not work. Looks like who ever QC the contents left parts out, like the manual
Overall Review: I got this to upgrade my Alianware Area 51 R2 board. It fit great with a couple wire extensions. Simple install. I put my I7 5820K on it and it wouldn't boot. A few hours with google and basic x99 error codes said bad CPU, I know mine is good. I am using it and all the other parts to write this review. I was really hoping this would have worked. I will probly just get an M*I board, they have the plugs in all the right spots for my Alianware case. When I watch unboxing on youtube, it shows parts on top, mine were under the mobo forcing it not to site in the box correctly, this may have been what caused CPU socket to be damaged?